Background
In 2021 global average data breach costs increased from USD$3.86 million to USD$4.24 million — the highest in the last 17 years (IBM, 2020), wreaking havoc on public infrastructure and major industries including healthcare, retail, and education. Additionally, 44.7% of 317 of surveyed businesses made data security their top issue of 2021 following the COVID-19 outbreak (S&P Global, 2020), and yet the global shortage of cyber security professionals is estimated to be about 72 million, and growing (ISC2, 2021). Furthermore, Big Tech companies earn money by selling user data, which commonly goes unchecked and unregulated. As almost all industries digitize and data becomes currency, data security is a critical issue for individuals, public institutions, private  businesses, and nations alike.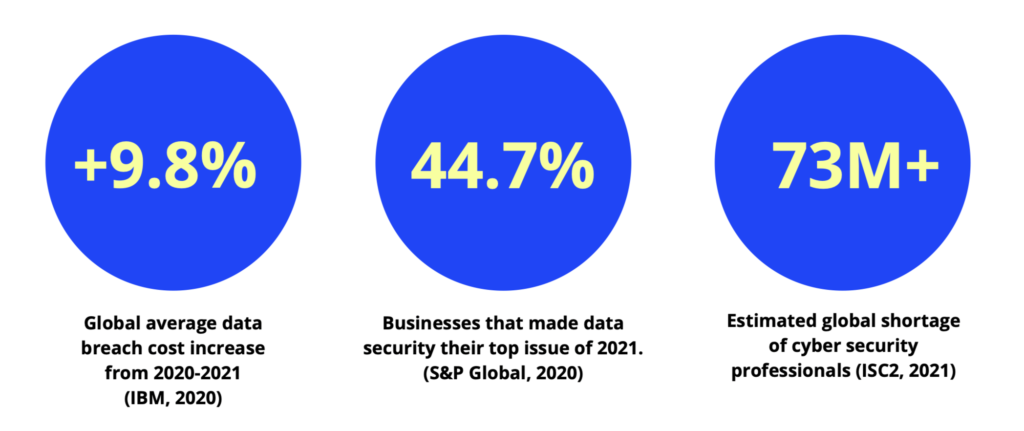 ---
The Problem
Teenagers in 2021 are digital natives and among the most tech-literate population, but teens today are especially vulnerable online: from phishing to malware, to oversharing on social media — cyber crime can have costly and severe consequences for today's young people, their families, and their schools. In 2021, 95% of cybersecurity breaches were a result of human error (Cyberint, 2021) and therefore, protecting teens on the internet is a matter of awareness: knowing what threats to expect, and how to safeguard against them.
---
Our Solution: Cyberion Data Security Game
Cyberion is a game application where 10-15 year-old teens can learn about data security through interesting narratives and exciting missions. We introduce this teen-friendly mobile game to increase cyber security awareness, personal protection, and to hopefully inspire interest in building up the cyber security industry. In the same way that IT companies today require employees to pass annual data security certifications, we hope that Cyberion can serve the same purpose for schools and IT education programs, teaching teens about data security in a unique and fun way.
---
The Game
Cyberion follows a detective through a series of cyber-crime investigations and case-solving. It is a free application soon available on the IOS and Google Play App stores. Our target users are 10-15 year olds where we have identified a gap in the cyber security educational space. The game itself was developed using GoDot open source software, which utilizes "GoDot Script" (similar to Python).
Game screen shots:
Examples of Missions:
Game Features:
GAMEPLAY
Fits any phone/tablet/pc screen (tested on PC, Samsung S8+, Samsung Note 8, Nokia 5.1)
Menu screen where you can:
Load game (list of saved games)
New game (make a new game)
See how to play game
See credits
See Terms and Conditions
Leave the game
Lobby where you can choose to play MiniGames or Missions
Shop where you can buy items
Home where you can see and equip your items and choose avatar

SETTINGS:
Turn ON/OFF audio, music, game effects audio (click, mission started, etc)
Turn ON/OFF game notification
Choose language (currently just English)
Send link and invite your friends
Rate us
Contact us
Support us
Go to menu screen


LOBBY
You can choose to play minigame or mission
List of minigames with written main objective in description
Each mission has its own chapters

IN-GAME CURRENCY
Coins: Earn them in mini-games or missions.You can spend them in shop.
Virus: You can get Virus in missions or minigames when you make a mistake.It will reduce your money every 30 seconds. The more viruses you have, the faster you'll lose money.
Gems (rare): You can earn them in minigames or missions.You can also buy them in shop (for real $$).You can spend them to buy some exclusive items or to to buy Coins.

PLAYER
You can choose avatar in "home" and buy more in the "shop"
It has simple walking animation and idle pose (for now)

PLAY
Random ad popups (if you click them, you will get "virus" in game, if you close them, you'll get "coins" in game)
Time limit to finish mission (it'll immediately teleport you back to lobby after time out)
Random coins and gems (very rare) on the map
After you finish mission, you'll get coins, reduce "virus" that you have and (maybe) get "gems" (very rare). You'll be teleported back to lobby

SHOP
Has different categories (money, pets, avatar, accessories, antivirus, currency-to buy gems/money in-game with
When you choose category, there will be list of items with small description and how much it costs

HOME
You can choose category
When you choose category, you'll be able to see all items that you have

OTHER
Game icon
Game name
Game intro (loading screen)
---
Process
We used Design Thinking and other Agile Methods(SCRUM) to empathize with our users, brainstorm, collaborate on our problem and solution building, and to increasing organization and efficiency.
We set up a Scrum Board for the organization and documentation and filled various team roles such as Scrum Master and Product Owner.
In order not to lose sight of our goal, we held various meetings, such as the Daily and Retrospective-Meetings.
Other Tools: Personas, User Empathy Map, AEIOU tool, Walt Disney Method, Business Model Canvas, MOSCOW Method, Figma (collaborative graphic design), Trello (SCRUM project management), GoDot open source game engine.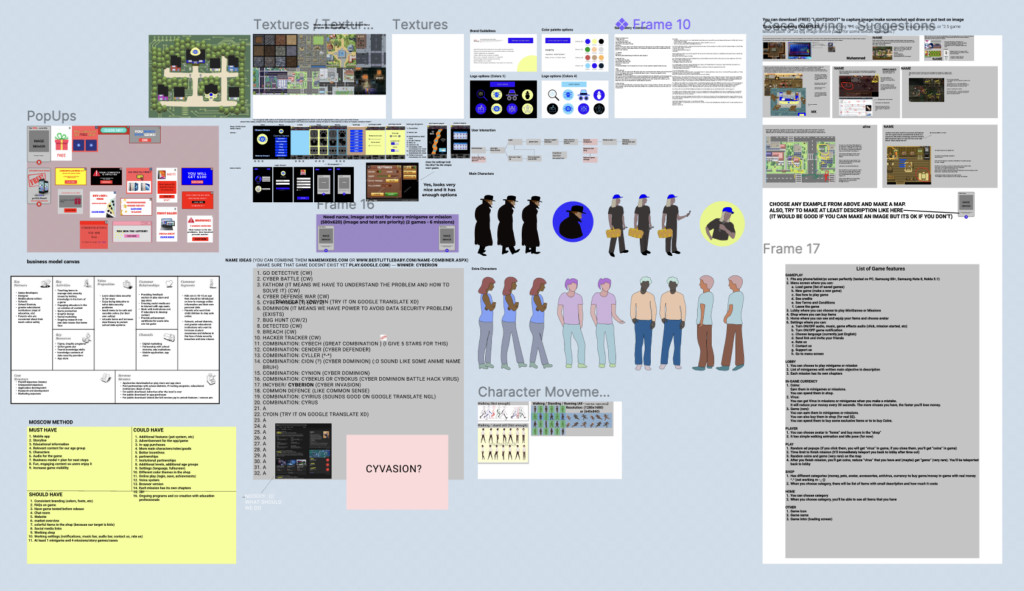 ---
Our market/ business model
Why do partners want to support us?
In the US alone, 24.5 million school records have been leaked across 1,327 data breaches since 2005. And when +1.3 billion students moved to remote learning, the pandemic became an accelerant for cyber attacks with the number of attacks in education spiking 30% yoy during July and August 2020 (Collegis, 2021).
Furthermore:
Educational institutions want to protect their students and themselves from cyber attacks and data breaches
Data security is a personal, political, as well as a social issue
Schools must participate in building an industry of data protection and cyber security specialists to prepare for the digital future
---
Next Steps
From problem finding to product, we have worked on this project over a period of only 3 weeks. While we weren't able to accomplish everything we wanted in this short time, we have thought a lot about which steps we would take next, to make our product more enjoyable and impactful for our users.

---
Meet the team
We had a great experience working together in our very international team, with all of us learning a lot about data security and game development!
Aline Lin: MCUT, Taiwan; MBA
Benjamin Berndt Hamburg, Germany; IT
Deniz Đekić ETŠ Tuzla, Bosnia and Herzegovina; IT
Emile Essam Mbeke: Hamburg, Germany; IT
Mary-Kate Moroney: MCUT, Taiwan; Design, SCRUM Master
Muhammed Alajbegović: ETŠ Tuzla, Bosnia and Herzegovina; IT, Product Owner
Risa Li: MCUT, Taiwan; IMBA