HotSnow
Hot Snow is a brand of artificial snow made from a special type of salt. Its fluffy, snow-like crystals give you the impression of being surrounded by a winter wonder Land. Hot Snow is commonly used for playgrounds, DIY figures, and Toys. The HotSnow Company is based in Taiwan and its substitutional Snow is already in use in several countries in Southeast Asia.
Make sure to check out the office Website of the HotSnow Company:
HotSnow International Ski Co,. Ltd.
company id : 24605438
e-mail: info@HotSnow.com.tw
tel: (+886) 3-6669327
address: Rm. 205, 4th floor, No.5, Xin'an Rd., East Dist., Hsinchu City 300, Taiwan (R.O.C.)
Website: https://hotsnow.com.tw/
Problem
As a well-established company for kid's playgrounds, the HotSnow company is always looking for ways to expand their target group and sales market. While Parents with young children, already experience the cosy winter atmosphere of HotSnow, other target groups are left out of the HotSnow experience.
SWOT Analysis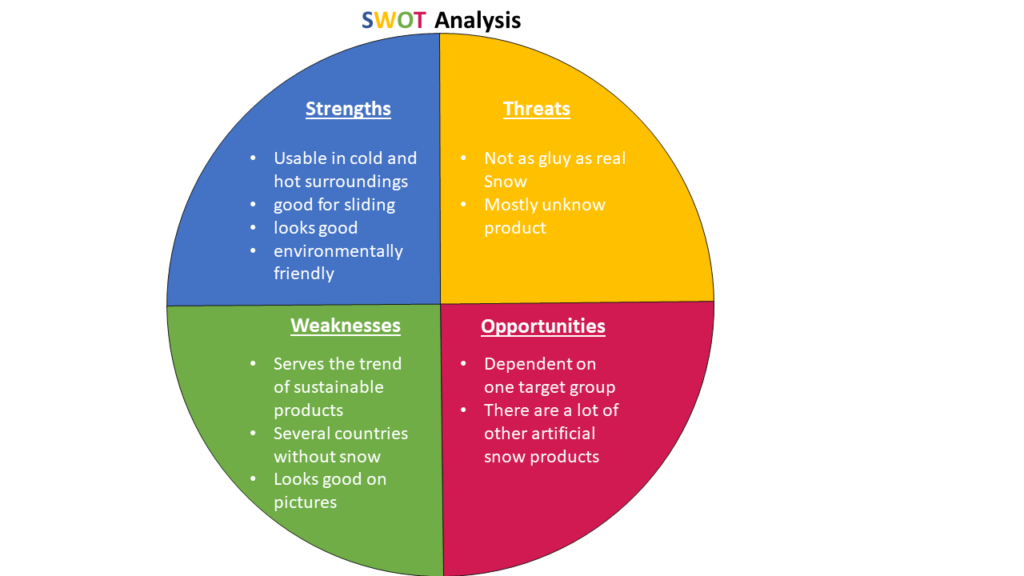 Target Group
Our target group consists of active, energetic, and competitive teenagers and young adults, who enjoy pushing themselves to new limits. They are likely to be physically fit and enjoy participating in sports and physical activities that require strength, agility, and endurance, such as running, biking, or swimming.
Members of this target group may be drawn to compete with others and measure their progress and success, such as obstacle courses, adventure races, or extreme sports like rock climbing, snowboarding, or parkour. They may also be interested in trying new and unconventional sports.
Moreover, they are likely to be socially connected, with a strong interest in sharing their experiences and achievements with others through social media and online platforms.
Vision
Our vision is to offer youth and young adults a unique challenge. They should be able to compete in a sporting way.
The HotSnow Hurler is a racing experience for young adults and children of 12 years and older. On a kart-like track covered with HotSnow, you let yourself be pulled by means of a pulley and try to maneuver your snowtube, bob or sled through the curves and around the hills. At one point on the track, photos are taken of the visitors, which you can purchase after the lap. You can also compete with friends and try to get the best lap time without flying out of one of the numerous turns.
The HotSnow Hurler is a year-round activity available only in combination with HotSnow. It allows the HotSnow Company to expand its target group and opens up new business areas.
Here you can find an example of how we imagine the HotSnow Hurler experience
Prototype of Hot Snow Hurler
Business
The following is an estimation for our Hot Snow Hurler, a machine used to distribute Hot Snow and create winter wonderland. The budget outlines the various costs associated with running the machine, including maintenance, fuel, and operator salaries, to provide an idea of the overall expenses involved in operating the Hot Snow Hurler
| | | |
| --- | --- | --- |
| Decoration | | |
| | X'mas tree | $4.000 |
| | sculptures | $1.000 |
| Light installation | | $3.650 |
| Scence of christmas | | $3.000 |
| Sledge for riding | | $6.000 |
| Camera snapshot station | | $1.500 |
| Payment for the workers | | $371.712 |
| Rental Fee | | $250.000 |
| Spotlight * 20 | | $417 |
| Utility | | $3.650 |
| Sleds*2 | | $1.200 |
| Pull rope machine*2 | | $84 |
| Total | | $646.213 |
This table shows the budget breakdown for a Christmas event, including various decorations and activities. The budget is approximately $646,213 per month.
The decoration section includes a Christmas tree costing $4,000 and sculptures costing $1,000. Light installations are set to cost $3,650, and the "Scene of Christmas" another $3,000. $6,000 is set aside to cover the costs of sledges for riding and $1,500 for a camera snapshot station.
The largest expense listed is payment for the workers, totaling $371,712, followed by rental fee at $250,000. Small expenses such as spotlight rental, utility costs, sled rentals, and pull rope machines are included as well.

Finally, there is a breakdown of weekday and weekend prices at $450 and $600, respectively. This table provides an easy-to-read summary of the various costs and activities required to host a Christmas event, including a rough estimation of the expected revenue based on ticket prices.
Marketing
Marketing is a crucial aspect of promoting and driving sales for the Hot Snow Hurler machine. It involves creating an effective strategy to increase brand awareness, generate leads, and engage potential customers. By showcasing the unique features and benefits of the Hot Snow Hurler, such as its ease of use and ability to create a winter wonderland experience, marketing can help attract a wider audience and increase revenue for the business.
Our Team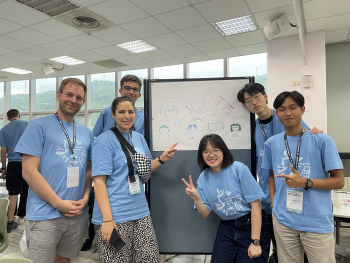 Team 3 consists of six team members from three different nations.

From left to right:
🇩🇪 Fabian
🇵🇪 & 🇩🇪 Alexandra
🇩🇪 Luca
🇹🇼 Yuki
🇹🇼 Haoyi
🇮🇩 Utama