17 June – 04 July 2022 – Virtual and international Design Entrepreneurship Workshop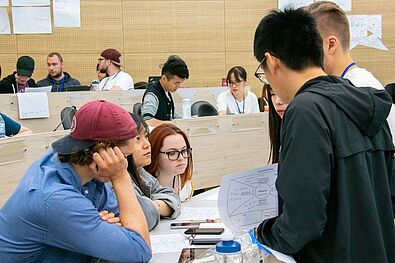 Following our successfull programs with our international partners MCUT (Taiwan) and Roosevelt University (Chicago) we are happy to announce the next "Design Thinking and Entrepreneurship Workshops".
The goal of the workshop is to promote design thinking, entrepreneurship and information technology and integrate them into innovative business models. Design Thinking combines creative and critical thinking and enables people to organize information and ideas, make decisions, improve situations and gain insights. Based on this model, students are challenged to solve problems in terms of user and customer needs and behaviors.
Participants from different institutions will work in interdisciplinary and international teams to develop ideas and solutions and create concepts and prototypes for their solutions. The workshop will be complemented by inputs from faculty and business experts who will address technical as well as business and design aspects. We expect participants to have an average daily workload of at least 4 hours. In addition to inputs and joint activities, there will also be time for working in the teams. The inputs and exchange opportunities offered will be based on the international time slots and will mainly take place in the afternoon (Central European Time).
The workshop contains qualifying elements from which participants can benefit in their professional careers:
Teamwork in international and distributed teams with different disciplines and cultural backgrounds.
Develop a holistic view of diverse cultures, societies, and business practices.
Form a good understanding of the design thinking process and iteration cycles with Scrum.
Gain insights into an entrepreneurial mindset, enabling them to take advantage of future opportunities.
If your institute is interested in the workshop, please send an email to international.team@itech-bs14.de or attend a short video session on April 26, at 14:00 pm (CET) to get further information and clarify questions (participation link and code will be sent on request):
Design Entrepreneurship Workshop – In a nutshell
• Time frame: 17 June – 04 July 2022
• Duration: 2.5 weeks (combination of structured and free phases)
• At least average 3-4 hours/day mandatory (input / exchange) plus individual time for team work
• Inputs and exchange opportunities primarily in the afternoon (Central European Time)
• Macro challenge: UN sustainable development goals
• International and interdisciplinary teams work on assignments
• Workshop language is English
• up to 100 participants (preferably university and VET students)
• Professional and lean management methods (Scrum)
• Single source of truth: video conferencing, communication and exchange of information via one team channel
We are looking forward to an exciting international experience.